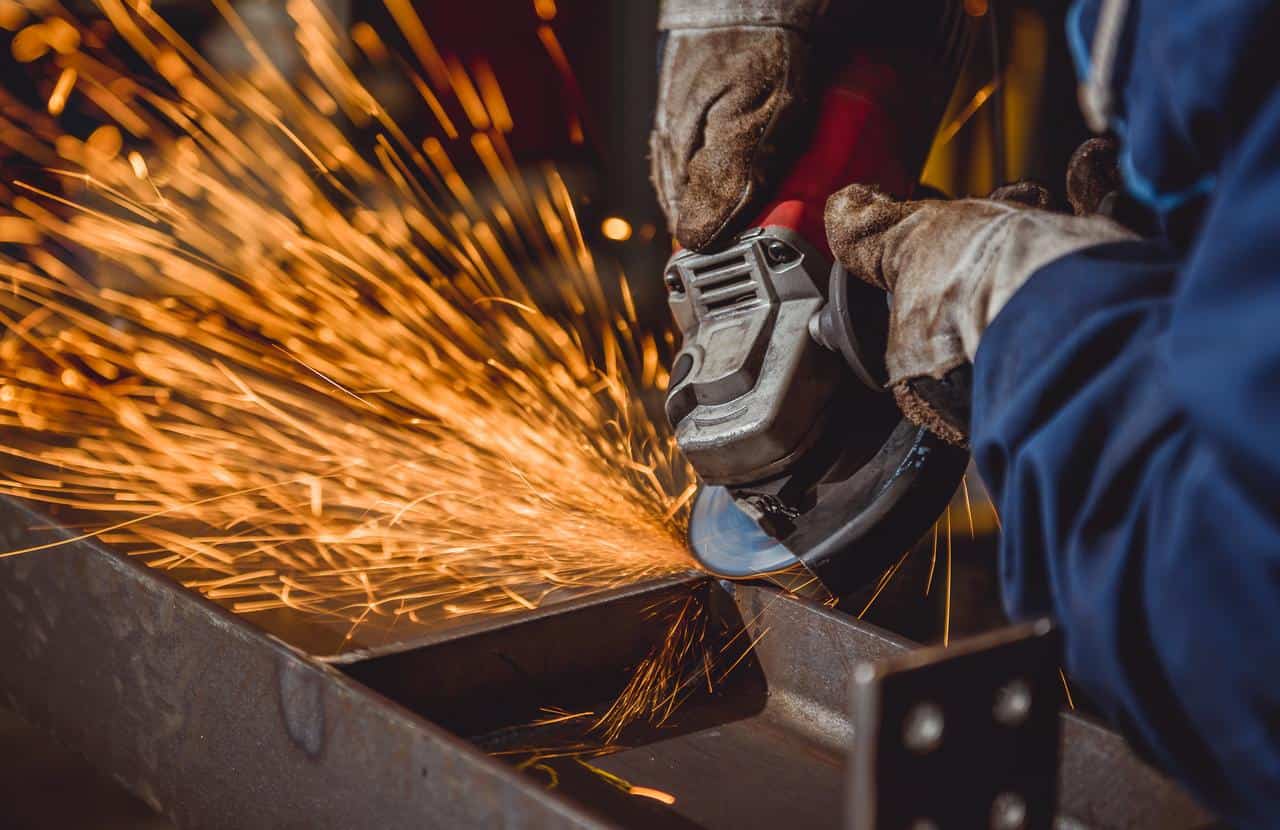 If you are looking for a versatile sanding and cutting tool, you will almost inevitably come across angle grinders. These hand-held power tools are great for various DIY projects and tasks around the house.
However, there are some differences between the angle grinders available on the market when it comes to price, quality and durability. Read on to learn about our 4 top picks for 2020.
The Best 4 1/2 Angle Grinders
---
What Is an Angle Grinder?
An angle grinder is an adaptable and flexible hand-held tool that is normally used in workshops, construction sites, and auto repair.
Hand-held angle grinders are also known as disc or side grinder. This is because of the wheels or cutting discs, that are mounted in a 90-degree angle.
Like most other grinders and sanders, this tool is available with a range of motor power and in different sizes.
These grinders are also part of the tool family of sanders and grinders, which also includes palm and belt sanders, for instance.
Types of Angle Grinders
There are both cordless and corded angle grinders available on the market.
Cordless Angle Grinders
The cordless grinders provide more portability and as they run on a battery. One can easily take cordless grinders with her/him to isolated and secluded areas where there is no power grid available. However, the battery often adds weight which can accelerate an operator's fatigue.
Corded Angle Grinder
Generally, the corded angle grinders are more prevailing as they come with a number of advantages.
In the case of corded angle grinders, a power source is always required. Therefore, it does not bear the user with the additional weight of a battery.
Thanks to the infinite power supply, their motors are more powerful. Thus, they can produce more torque.
What Is an Angle Grinder Used for?
This type of grinder is used to
grind,
polish,
cut,
buff,
sharpen,
sand,
remove, and
clean
a number of different types of material (find more about the uses of angle grinders here).
The materials an angle grinder can be used for, include for instance
wood,
plastics
PVC,
metal,
glass,
ceramic, and
bolts.
Some DIYers use their angle grinders also for concrete, stone and masonry. However, as this may overstress the capacity of a regular angle grinder, we suggest using concrete and stone sanders instead.
Note that the different uses require different wheels and discs, depending on the material and the intended type of work.
Safety Considerations when Using an Angle Grinder
When using an angle grinder, there are different risks involved. A grinder can produce sparks, an operator could lose grip, a disc can break etc.
Therefore, always make sure that you adhere to the safety principles of working with a grinder, i.e. have your hands and eyes properly covered before using an angle grinder. Buy cloves and goggles / safety glasses if you do not have them yet.
Make sure you follow the manufacturer's instructions thoroughly and, if you have never worked with a grinder before, make sure a professional trains you and shows you the relevant steps.
Criteria when Buying an Angle Grinder
When you are buying an angle grinder, you will want to consider a few things, namely:
motor,
rpm,
disc size,
spindle/arbor size, and
electric power resource.
We have covered the different power sources under the previous sections, so let's move forward with the other criteria.
Motor
The motor is the basis for the work performance of any disc grinder. Angle grinders come with an amperage of 6 A up to 15 A (even more for professional tools), the higher the amperage the more "aggressive" a grinder.
The motor and the size of a grinder correlates often, but not always, with the size of the discs that can be used. As a rule of thumb, the larger the discs, the more power is required.
However, working on particularly hard material will also require a certain torque from smaller grinders, so consider the intended uses of a grinder besides the desired sides of the discs or wheels.
Disc Size
In the US, discs come usually with a size between 4 and 12 inches. Typical sizes in within that range are 4.5, 5, 5.5, 6, 7 and 9.
When you are choosing an angle grinder for DIY jobs, you should be considering which maximum size you might need in the next coming years. This is because the disc size is linked to the grinder's specifications: a 4" angle grinder might be sufficient for many kinds of uses in woodworking or home improvement. Those working on larger workpieces or surfaces might want to consider a tool that allows for a larger maximum disc size though.
When you buy discs, make sure they are both compatible with the arbor size as well as with the maximum RPM of your angle grinder. Otherwise, you will risk them breaking apart, with the risk of serious injuries. Read this article for more details about wheels and discs.
Revolutions per Minute (RPM)
The rpm indicates the number of revolutions per minute a grinder is able to generate. For comparison purposes, it is usually the no-load RPM, i.e. the revolutions possible without a disc held against a work piece.
As a rule of thumb, small angle grinders come with higher RPMs of up 11,000 to 12,000 RPM while larger models provide 6,000 to 9,000 RPM.
Variable speed options and soft-start features also allow for a use with lower RPMs, e.g. < 3,000 RPM.
Spindle / Arbor Size
Spindle is the shaft of an angle grinder on which the disc or wheel is mounted. Thus, the spindle size or arbor size indicates which kind of wheels or discs you can use. A common standard size in the US is 5/8"-11 (which means: 5/8 inches of diameter with 11 threads per inch) but there are smaller ones such as 3/8"-24 which are used by small angle grinders and pneumatic tools (source).
When you are buying a grinder, particularly from less common brands, make sure it allows you to mount equipment in those standard sizes.
4-½" Angle Grinder Reviews
 
Bosch 4-1/2-Inch Angle Grinder 1375A
BLACK+DECKER Angle Grinder BDEG400
Metabo HPT G12SR4 4-1/2-Inch Angle Grinder
DEWALT Angle Grinder DWE402K
 
 
 
 
Power
6 A; 11,000 RMP
6.5 A; 10,000 RMP
6.2 A,  10,000 RPM
11 A; 11,000 RPM
Wheel size
4.5"
4.5"
4.5"
4.5"
Spindle size
5/8"-11
5/8"-11
5/8"-11 and 7/8"
5/8"-11
Features
tba
3-position handle
Comes with 5 grinding wheels
Dust ejection system, 360-degree rotation of the one-touch guard
Size
14.4 x 5.2 x 5.2 in
12.5 x 5.19 x 4.63 in             
10.15 x 4.5 x 2 in
16.1 x 7.9 x 6 inches
Weight
3.75 lbs
4.5 lbs
4 lbs
7.7 lbs
Price level
$$
Check current price on Amazon
$
Check current price on Amazon
$
Check current price on Amazon
$$$$
Check current price on Amazon
---
Bosch 4-1/2-Inch Angle Grinder 1375A
The Bosch 1375A 4-1/2 Inch Angle Grinder comes with a 6.0 A motor. With a well-designed and stylish clench, two-position side handles, lock-on slide switch, and 11,000 no-load rpm, this tool can get the most kinds of jobs done, incl. harder material. The Bosch grinder is specially designed for (semi-)professional use by car repairs, plumbers, metal workers, and other professionals who use grinders daily.
Bosch 1375A 4-1/2 Inch Angle Grinder is popular among people because of its unique and ergonomic design, its durability and of its good all-rounder capabilities. This tool weighs only 3.75 pounds. It is easy to hold and carry which makes it a good choice for people who require a convenient portability.
The Bosch Angle Grinder features a 6.0-amp motor that produces 11,000 no-load rpm. This allows for a number of general and specialized grinding and cutting applications.
The tool allows a quite ergonomic use. With its two-position handle, it allows the operator to adjust the tool to the requirements of a project which eventually helps prevent fatigue.
Bosch 4-1/2-Inch Angle Grinder 1375A
---
BLACK+DECKER Angle Grinder BDEG400
This angle grinder is perfect for cutting, grinding, sharpening and surface preparation. It is also used for removing rust.  BLACK+DECKER Angle Grinder Tool, (BDEG400) features a metal gear holder to provide durability and strength.
The weight of the BLACK+DECKER Angle Grinder Tool, (BDEG400) is around 4.5 pounds. It has a 3-position handle that provides additional relieve and control for use in different angles and situations.
It also contains a spindle bolt and catches for simple accessory changes. The tool operates at 10,000 rpm and allows to mount 4 ½" discs with a spindle size 5/8″ – 11 ".
Like most other tools in this comparison, this one comes with an amazing 2-year limited manufacturer's warranty.
BLACK+DECKER 4-1/2-Inch Angle Grinder BDEG400
---
Metabo HPT G12SR4 4-1/2-Inch Angle Grinder
This tool can be used for cutting in different types of bronze, aluminum, and, steel castings, but also marble and brick. The disc grinder weighs 4 pounds and comes with a 6.2 Amp motor that delivers around 10,000 RPM. It is the smallest tool in this comparison which makes it highly portable and comparatively easy to operate.
In addition to the tool, the pack contains a wheel guard, spanner wrench, side handle, case, and 5 pieces of abrasive center wheels.
Metabo HPT G12SR4 4-1/2-Inch Angle Grinder
---
DEWALT Angle Grinder DWE402K
This rather pricey angle grinder is home to an 11 Amp AC/DC 11,000 RPM motor that is ideal for faster removal of material and while providing advanced security.
The tool also involves a dust ejection system. This system helps in preventing dust and debris particles from entering the tool through the air intake vents which expands its potential lifespan, in particular when used for sanding.
It also comes with a quick-change system which allows to easily remove the wheel without using a wrench. The one-touch guard facilitates a 360-degree rotation of the guard in one stroke, hence it can be quickly adjusted during the course of operation.
The kit it is usually shipped in also contains a 2-position side handle, the one-touch guard, and a wrench, as well as a fitting case. The weight of DEWALT Angle Grinder DWE402K is around 8 pounds. The tool comes with a warranty of 3 years.
DEWALT 4-1/2-Inch Angle Grinder DWE402K
---
Which one is the Best Grinder?
1) Best Pick
The best angle grinder in this comparison (also by far the priciest):
DEWALT Angle Grinder DWE402K
3) The Competitors
Similarly, good but lacking the edge of the previous 2 angle grinders, are:
Conclusion
Angle grinders with 4 ½ inches disk size are small but aggressive without being too pricey. Even the cheapest ones, such as the Metabo G12SR4 might fulfill most DIYers' requirements. For (semi-)professional uses, the Dewalt Angle Grinder is probably the better and more durable choice which however will set you back a few bucks more.
If you are looking for more choices or another size of angle grinders, check the latest deals on Amazon.
We are sorry that this post was not useful for you!
Let us improve this post!
Tell us how we can improve this post?