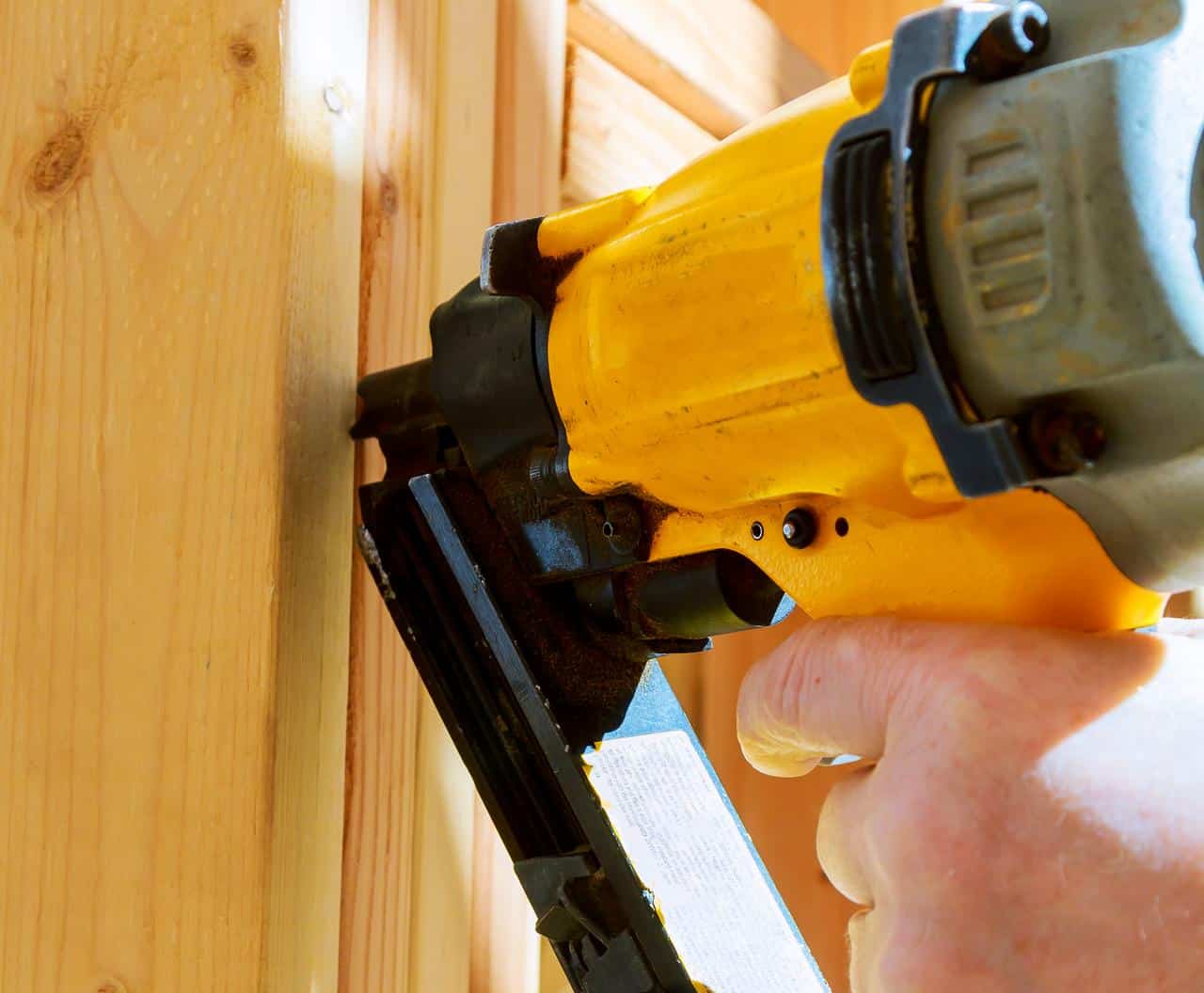 The framing nailer is probably the best known and used device to secure objects with nails in both light and heavy constructions. This tool uses the force of compressed air to drive framing nails into hard surfaces.
This article will focus on giving a series of recommendations to choose the best framing nailer. We will also include the best brands we find on the market so that you can make a good purchase.
Characterisitcs of Air Framing Nailers
Any framing nailer consists of the following parts:
Compressor: It is responsible for introducing the pressurized air into the mechanism. If it is a wireless framing nailer, it is replaced by a compressed air cartridge.
Nail cartridge. It should contain 50, 100, or more nails or staples ready to be placed on the material.
Nail drive mechanism: this is a percussion gear that, by using compressed air from the cartridge or compressor, throws the nail or staple at high speed so that it is inserted into the material.
Non-slip handle: designed to hold the tool firmly.
Trigger: to shoot each nail or staple individually.
Due to its power, many professionals recommend that you look for someone familiar with a framing nailer to show safe operating procedures and thus avoid any accident.
What Types of Pneumatic Framing Nailers Are there?
In the market, there are different types of nailers, which stand out for having different sizes. If we focus on the dimensions of the staplers, we can see the following sizes:
The 1.2 mm framing nailer is the most common option. It allows us to work with all types of products in a simple way. Also, it is a highly commercialized model.
The 0.6 mm framing nailers are perfect for headless nails and nails with small head sizes. They are very light nailers, very easy to handle and ideal for use on wood. We also have to add that they stand out for having nails that have a length of 15 to 30 mm.
The  0.8 mm nailers are perfect for nailing large pieces of heavy wood, such as slats, for example. These models generally offer excellent support for 15 to 40 mm nails.
Finally, you can also bet on nailers from 1.4 to 1.8 mm. They are perfect for heavy work or tough surfaces. They are really powerful, so you can even nail on surfaces as hard as brick or cement, among others.
Smaller siblings of the framing nailer are nail guns for finish nails and brad nails.
Things to Consider Before Buying an Air Framing Nailer
First of all, you should know that framing nailers work through an air compressor. If you want to buy a machine that gives you an excellent service, you have to see that the compressor is of good quality. Here are other things to consider:
Loader capacity: the best framing nailers have loaders with capacity for up to 100 nails.
Versatility: it is recommended that the universal stapler magazine supports staples and nails with a flat head and / or missing head.
Caliber: At a minimum, the nailer should use nails up to 5 cm in length and staples between 3.2 and 4 cm. Depending on the model, nails with a thickness of 0.6 mm, 0.8 mm, 1.2 mm, 1.4 mm or 1.8 mm may be used.
The compressor should be at least 50 liters.
Pressure: the higher, the better we can work on hard materials. Ideally, it offers between 4 and 8 bars of pressure. This usually marks the price of the framing nailer.
Vibration: a framing nailer with a low level of vibration will allow us to work more precisely and comfortably.
Weight: the lower it is, the better. It is recommended that it should be less than 1 kg.
Nailing depth: The value will be greater or lesser, depending on the pressure offered. According to the opinions on framing, nailers analyzed. However, an ideal framing nailer must allow the nail to be embedded at least 10 cm deep.
Safety: a framing nailer for mounting cabinets, upholstery, crafts, or any other use must have a trigger lock system, safety switch and a mechanism for quick disconnection of compressed air.
Electronic power regulation: this way, we can adapt the performance of the tool to the type of material used.
With so many different types of framing nailers available, it can be challenging to choose which one is the best for your needs. Before you buy one, think about what you want to be using it for because this will massively effect which is the right choice for you.
If you need it for small construction projects, a moderate priced nailer will do just fine. However, if you are looking for one to use on larger-scale construction projects, you will need a much more powerful option.
Reviews of 8 Pneumatic Framing Nailers
Lightweight magnesium construction
​Changeable nosepieces to work with wood or metal
​Easily adjust nail depth
​1,050 in./lbs. of power
7- year warranty
The Bostitch F21PL nailer has a padded grip handle, which offers you a very comfortable grip. This high-capacity nailer is suitable for plastic collated 21-degree framing nails or metal connector nails.
Furthermore, it has a capacity of 60 nails inside. It also has an anti-vibration function, which will prevent involuntary movements when working with the machine.
---
4-piece kit
Covers you for all framing needs
Adjustable nail depth
360-degree adjustable exhaust
Quick jam release
Rather than giving you one nailer to do all the jobs, this framing nailer kit has included four nailers for different nailing purposes. Inside the purchase package, you will get:
21-degree 3.5 inch framing nailer,
15-gauge 2.5 inch 34-degree finish nailer,
18-gauge 1.25 inch straight brad nailer,
and 18-gauge 1.25 inch narrow crown stapler.
Each nailer has similar features. Each of them includes an adjustable nail depth, air filter, and anti-dust cap to extend the tool life. It also has a 360-degree adjustable exhaust to keep air out of your face and away from debris.
On its machine, you will find a quick jam release nose and firing mechanisms that stop you from damaging the devices by preventing dry fires.
---
Unique design for quick disassembly and maintenance
Lightweight construction
Depth adjustment
Well balanced nailer
Rubber grip
This framing nailer is a well-constructed, powerful machine that will deal with any nailing projects you have around the home. It is designed to be very user-friendly and easy to maintain so you can focus more on the job at hand as opposed to trying to figure out why your nailer isn't working.
I like the two-step nail loading process that allows you to very quickly reload the nails and continue with your work without much delay. Moreover,  the ergonomic rubber grip makes it comfortable to hold for a long time. Just like other framing nailers, this one allows you to adjust the nailing depth easily. Surprisingly, it also has a selective actuation, which will enable you to change the delivery between sequential and contact nailing by flipping a switch.
---
Dual-mode trigger
Depth adjustment feature
Anti-dry fire mechanism
Handles 21-degree nails
Adjustable air exhaust
One unique feature available here is the adjustable air exhaust. It is something that isn't available in all other framing nailers. This feature allows you to prevent debris from hitting your face. The nailing gun is made of a durable magnesium material. As a result, it is incredibly lightweight, and it doesn't tear down much in long time use.
There are two attachments on the tip that are handy. The no-mar tip that prevents your work surface from getting unintentional dents and knocks, and the no-slip teeth, which grips the tool to the wood and makes sure every fire is accurate.
---
Device for nails with 34 ° and size of 50 – 90 mm
Usable working pressure between approx. 5.2 to 7.9 bar
Maximum working pressure reaches 8.3 bar
Automatic shutdown (avoidance of empty shots)
Adjustable penetration depth
3.3 kg and dimensions of about 40.5 x 52 x 18 cm, thanks to lightweight magnesium construction still handy
The 282400 framing nailer from the British manufacturer Silverline was extremely powerful in different framing nailer tests. He picks up paper-bound nails with 34 ° and a size of 50 to 90 millimeters. The magazine capacity is 90 nails. Despite its size and weight, the Silverline 282400 is a handy device due to its lightweight magnesium construction. Besides, the device also brings some functional advantages, such as the automatic shutdown and adjustable penetration depth. The scope of supply also includes a 1/4 inch quick coupling.
The Silverline 282400 is a framing nailer with impressive performance. Especially recommended for use in fence and roof construction as well as in the installation of floors or decking.
---
Very light design (weight: 1.4 kg)
Working pressure: 4 to 8 bar
Impact depth adjustable
Handle with rubber cushion (non-slip)
Delivery includes safety goggles, lubricating oil, and a carrying case
The AF505 framing nailer from the Japanese manufacturer Makita is one of the best-known models on the market. The AF505 convinces not only by its impressive performance but also by its handling. The device weighs only 1.4 kg and still achieves a working pressure of 4 to 8 bar. Besides, the AF505 also has a non-slip handle with an inserted rubber pad. This makes the Makita AF505 one of, if not the, most comfortable framing nailer on the market.
If you are looking for a powerful and comfortable framing nailer, then the Makita AF505 could be just the model for you!
---
Suitable nail length: 50 – 90 mm with ° 34 gluing
Suitable for all types of wood as well as fabric and leather
Usable working pressure between approx. 4.8 to 8 bar
trigger protection
Regulation of impact depth
Rotatable exhaust air adjustment
Whether for wood, fabrics, or leather, the compressed air nailer of the manufacturer PASLODE is a true, reliable (almost) all-rounder. The device also has almost unbeatable functional properties that make it probably the most functional model on the market. The impact depth can be adjusted here as well as the exhaust air adjustment. The framing nailer from PASLODE also has a rubberized handle, which makes it very comfortable to handle. The device is designed for the use of D-head nails and has a working pressure of 4.8 to 8 bar.
No matter what materials you work with and what kind of work you need the framing nailer, the PASLODE model has completely convinced in the compressed air nailer test in all applications. Above all, but not only, recommended for professional artisans!
---
Usable nail length: 10 – 50 mm
Insertable clip length: 13 – 40 mm + clip width: 5.7 mm
Magazine-level indicator
Rotatable air outlet
safety nose
Oil bottle, two Allen keys, 1000 nails (25 mm) and 500 clips (5.7 x 25 mm) included
The framing nailer and stapler from the US manufacturer Pneutools is suitable for working with nails and staples. The device is characterized primarily by its performance in the framing nailer test but also has some compelling functional properties. Thus, the device has a practical level indicator for the magazine and a rotatable air outlet. With a maximum working pressure of 8.3 bar, you'll also be able to hold a highly razor-sharp nailer in your hand with Pneutools' framing nailer. Also handy: the scope of delivery includes an oil bottle and two Allen keys.
If you are looking for a powerful framing nailer and tacker, then you can't get it wrong with the Penutools model.
---
Best Framing Nailer For The Money: Conclusion
No matter what job you are going to do, there is a framing nailer that suits your needs. While some prioritize ease and convenience, others focus more on sheer power and accuracy. Of course, there is a large discrepancy when it comes to price. However, more expensive products are only worth it if you have a significant construction project to work on. If not, then the cheaper versions will be just as good for you.
Our choice for the best framing nailer is the NuMax SFR2190. It is available for a great price. It is useful for a wide range of projects and comfortable to use. However, depending on your needs, you might need other models to check out.
I hope this article is helpful. If you have other recommendations, let us know in the comment below!
We are sorry that this post was not useful for you!
Let us improve this post!
Tell us how we can improve this post?