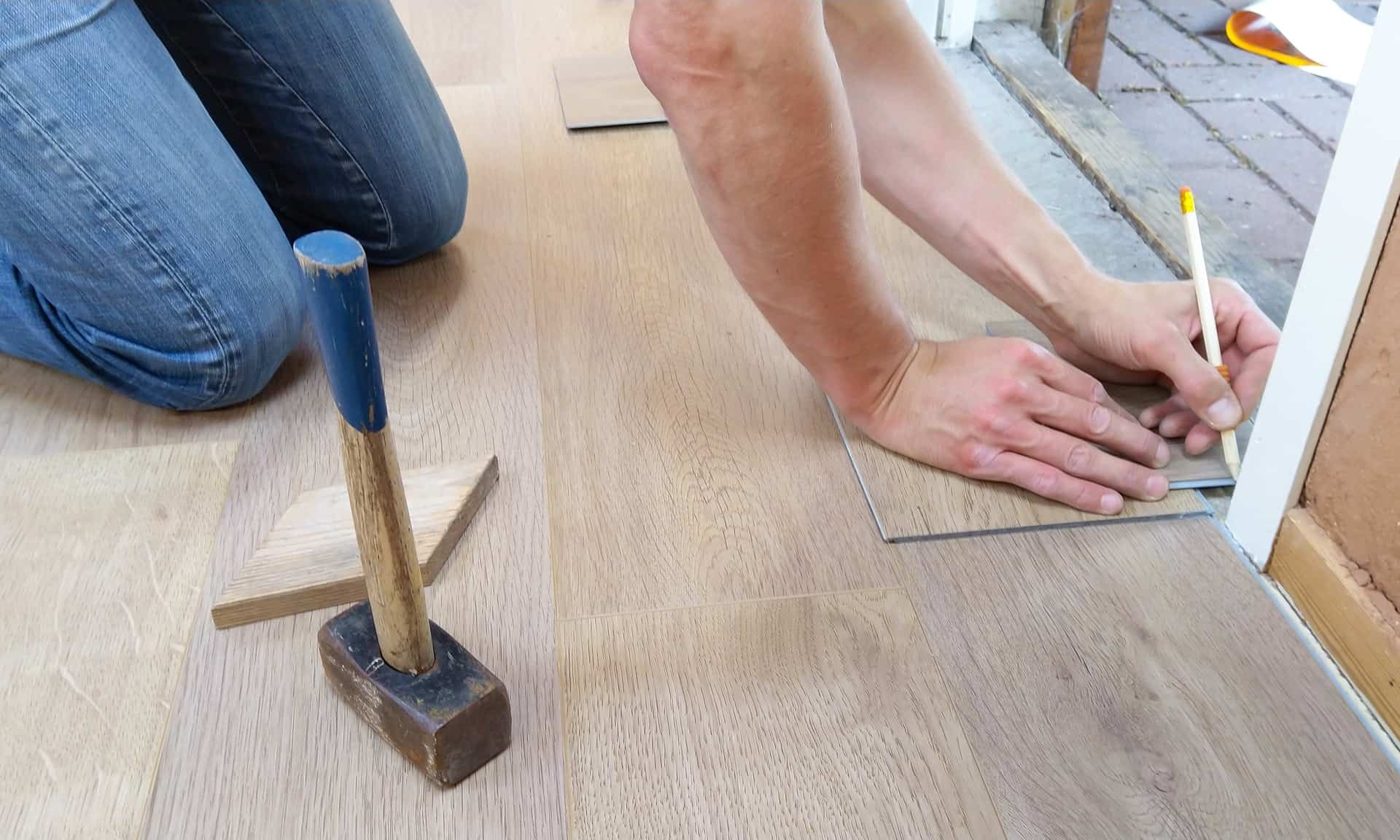 Floating floors made of laminate, vinyl or engineered hardwood have become popular over the past 2-3 decades. This is because they are a convenient and easy-to-install but yet appealing alternative to fixed floors. Installing such floating floors can be handled by most DIYers. This article provides you with step-by-step instructions on how to install a floating floor.
If you are new to this type of flooring, you might want to take a look at our introduction "What Is a Floating Floor". That article will give you an overview of the characteristics and the different types, such as laminate, vinyl and engineered wood, as well as the pros and cons of non-fixed flooring.
Choose the Right Material
The most popular types of indoor floating flooring are laminate, vinyl or engineered hardwood.
Examples:
The differences are that the latter is made of real wood (its surface, at least) while the others are synthetic materials. While wood may look and feel more authentic than laminate or vinyl, it also requires more maintenance over the years. Read our article on how to refinish hardwood floors to get an impression of what I am talking about.
Laminate and Vinyl floors might look like wood but they do not feel like it since they are in fact an artificial material. One of their pros is that they are easier to clean and that they do not need to be sanded refinished regularly.
Read this article for more details:
Installing a Floating Floor in 5 Easy Steps
This step-by-step instruction will show you how to install a floating floor in your home. Whether your installing laminate, vinyl or engineered hardwood floors, the basic approach to their installation is very similar. Firstly, you will have to choose the flooring material that meets your needs and requirements. You may think that this a no-brainer but it will probably be very time-consuming, considering the numerous looks and designs on the market.
Once you have chosen the design, you will need to get sufficient flooring material and make sure that you have the right tools at hand.
Then, you can simply follow these 5 steps to lay a floating floor in your house.
Tools and Equipment
For the installation of a floating floor, you will need:
Flooring material, usually laminate, vinyl (LVF) or engineered hardwood slats
(find it e.g. on Amazon)
Underlayment
A vinyl / laminate cutter or a saw
Measuring tape
A sealer

The EAB 9 inch vinyl / laminate cutter – a good yet affordable tool for the job.
Check the current price on Amazon.
1) Plan and Measure
Firstly, measure the room to find out how much laminate you will need to purchase. Make sure the underfloor is clean and dry and even. Use a level to check for uneven spots. These may be filled with patching compound. Get your equipment and material ready and prepare the area for your project.
2) Install the Underlayment
You will then need to lay some underlay that will fit like a sandwich between your laminate and the underfloor.

Example of a sound-reducing underlayment
(compare prices of this one and other underlayments on Amazon)
This will vary depending on the type of material your underfloor is made of. If it is For concrete, a plastic membrane should also be used to prevent dampness, then for laminate flooring, a foam underlayment should be used to correctly seat the laminate and protect it (more details available on thespruce).
The foam underlayment comes in rolls and a single layer will need to be rolled out across the floor. Leave a few inches spare at each wall which can be trimmed at the final stages. The joints between the foam underlayment should be stuck together and sealed with duct tape.
3) Plan the Installation of the Planks
Decide which way the planks will be installed. Usually, the best way is parallel with the longest wall but this is a personal choice. 5/16th inch sized spacers will need to be inserted between the floating floor and the walls to allow for expansion and contraction. This small gap may be covered by installing skirting board at a later stage.
4) Lay the Floor
The floor can then be installed piece by piece ensuring each piece is connected to the next by the tongue and grooves on the planks. A piece of scrap wood and hammer can be used to ensure the joints are tight.
Continue connecting the planks together until the opposite side of the room is reached, remembering to leave a 5/16th sized space there too for wood expansion.
5) Apply a Sealant
Sealing the surface is a recommended final step to reduce the risk of scratches or water damage and protect the floor from wear and UV radiation. There are special sealers for vinyl and laminate available that can be used for the respective material.
If your floating floor is an engineered hardwood floor, you might want to check whether it already comes with a finish. Otherwise, you should sand it slightly and apply one of the usual wood finishes. For floors, lacquer and polyurethane are probably the most common finishes. However, you can also consider applying a wood finishing oil which retains the natural look but is generally less durable than lacquer or polyurethane
Apply the sealer in accordance with the instructions on the can or bottle – you can usually use a rag or a brush. Polyurethane and lacquer can also be sprayed. For the application of oil, check out our in-depth guides for the respective type of oil.
Tackle the Problems of Floating Floors
Although the installation of floating floors is comparatively easy, the devil usually lies in the details.
Common problems when fitting a floating floor can be that the bottoms of doors need to be trimmed as the floating floor will be slightly higher than the original floor.
The final piece of laminate that will fit against the opposite wall may need to be trimmed down using a circular saw. Then once cut to size, it may be tricky to get the tongue and groove to join properly as there will not be much space to use a hammer and piece of scrap wood.
For this, you can use a pull bar (like this one). This is a long strip of metal with a right-angled tongue on either end but going in opposite directions. The pull bar fits against the edge of the final piece of laminate and you can then pull or tap it into place.
Roundup and How to Get Started
The installation of a floating floor is not too difficult and can be done by most intermediate DIYers. If you take your time and pay attention to the details as well as potential pitfalls, you will be able to install such flooring in your house as well.
Make sure you get your material, tools and equipment ready. You can go to your favorite DIY store or find the flooring material as well as tools online, e.g. on Amazon.
We are sorry that this post was not useful for you!
Let us improve this post!
Tell us how we can improve this post?