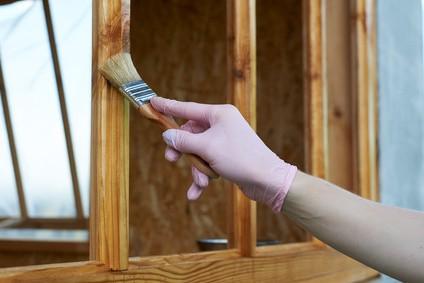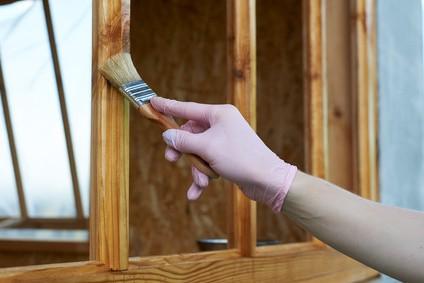 When it comes to wood finishes, we've all heard the terms multiple times. While most people understand what gloss finishes mean, do any of us know the technical meaning of a satin finish? And what is the actual difference between satin and gloss?
Difference between satin and gloss finishes
The difference between satin vs gloss revolves around a single factor: the sheen, or absence of sheen, on a surface.
Sheen is about how reflective the surface is or how much light it will reflect. And the more sheen, the more light it will reflect and the shinier it will seem. A gloss finish will have the highest sheen, whereas matte finishes have almost no sheen.
A satin finish, on the other hand, has a chemical added that breaks up the surface after it has been applied, breaking up the top layer so that reflected light, even with a high gloss finish, doesn't come off in a uniform manner and doesn't seem anywhere near as reflective.
Satin finishes can also be described as eggshell finishes because they tend to have the same reflective quality and shine as a clean eggshell after one coat. Subsequent coats will make the surface shinier.
Satin vs gloss varnish
When treating wood, the choice of varnish finish (read more) is incredibly important when it comes to the appearance and function of the finished product.
A satin sheen varnish will be even and slightly reflective. It also tends to look clean and stable. Satin sheens can also be adjusted easier by simply adding further coats.
Gloss varnishes require a lot more preparation and work before application, but can look amazing when done correctly. Gloss varnishes are incredibly reflective, almost like mirrors, but require a perfectly level and stable surface before they're applied, otherwise, every single imperfection will be obvious to even untrained eyes.
Satin vs semi gloss paint
When you're painting your house, the type of paint you choose is almost as important, if not as important as the color you choose. Gloss paint used the right way can set off a room. But used in the wrong manner, it can make something look tacky, or even ruin the finish of a wall or piece of furniture.
Satin finishes can look amazing, despite only having a medium gloss. If you've ever seen a house that's a solid block of even color, it's probably a satin finish. As an interior paint, satin is a solid choice because of the delicate ranges of color, lack of shine, and ease of cleaning.
Satin finishes are also excellent for hiding imperfections in the material that's being painted, and a lot more flexible on the material that you can apply them to. Either way, you still end up with a good finish.
Semi-gloss finishes can look exceptional when done properly. A high shine gloss is hard wearing, looks really professional, and can actually be easier to clean than a lot of other styles of paint.
However, semi-gloss requires a lot more work to be done beforehand, and needs a perfectly even surface, considering it tends to highlight imperfections in the material underneath.
Find semi-gloss paint and satin paint on Amazon.
Satin vs gloss polyurethane
Unlike paints and varnishes, the difference in satin and gloss polyurethane finishes is purely in the amount used to create the finish.
Polyurethane is applied to floors to give them a hard wearing and tough topcoat, as well as to furniture to give it a lustrous, shiny finish.
The main difference in a satin vs a gloss finish is the amount of shine. Satin urethanes have more flattening paste to take the luster out, so you end up with less sheen. Glossy urethanes have less of this flattening paste, which leads to a far shinier end result.  
Remember. When you're wondering about the difference between satin and gloss finishes, there's one general rule of thumb.
Gloss accentuates what's underneath, and satin hides it. So for perfectly smooth and linear finishing, choose gloss. If not, satin is probably a better choice.
Bear this simple rule in mind and you're sure to end up with a perfect project.
Learn more about wood finishing with oil or the differences of polyurethane vs. varnish.
We are sorry that this post was not useful for you!
Let us improve this post!
Tell us how we can improve this post?