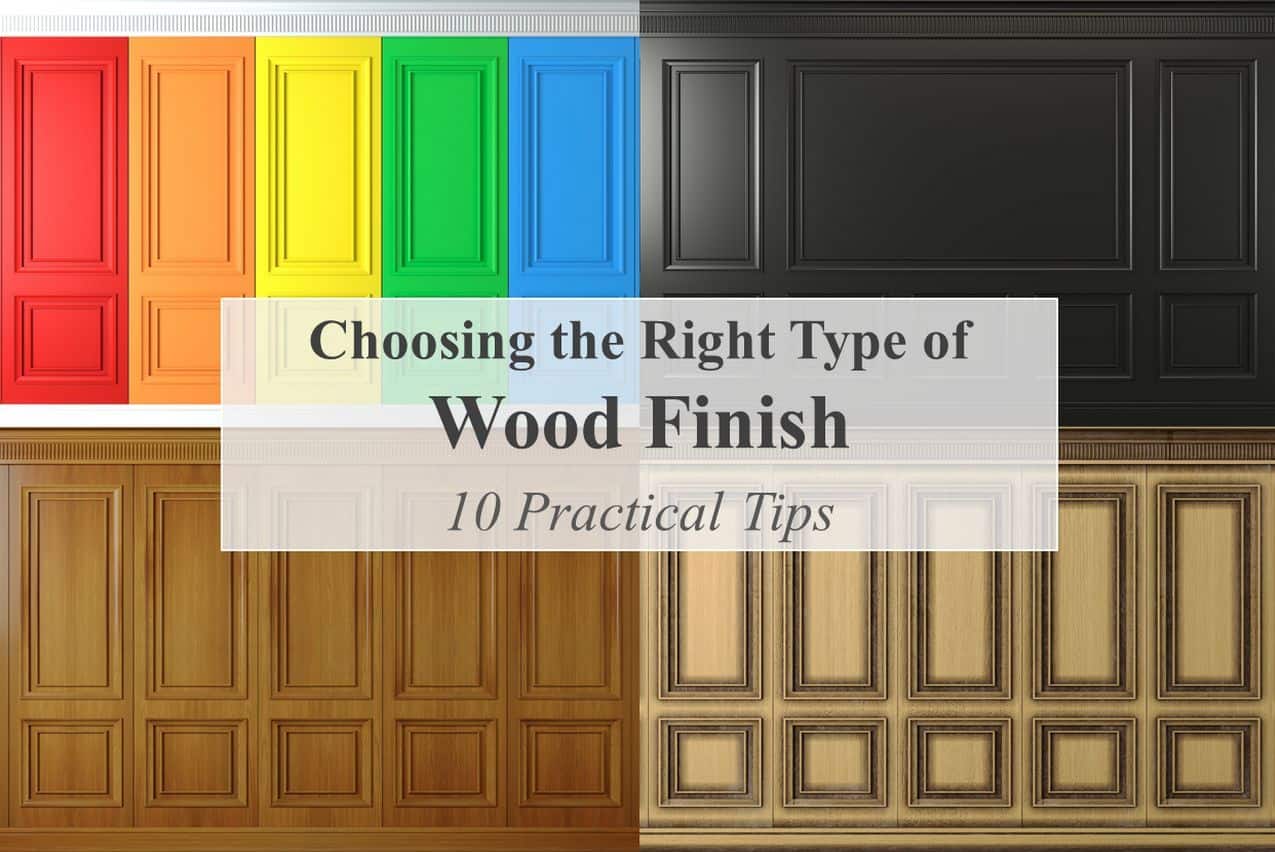 Whether you own wooden furniture or installations or whether you are a hobby woodworker – whenever it comes to wood around the house, you will have to finish or refinish it at some point. Floors, doors, window frames and exterior wood are exposed to the weather. Thus, they require a regular, often a yearly treatment. Furniture, cabinets and decorative objects might not experience that much tear and wear. However, they need some basic protection as well. In addition, most finishes also enhance the appearance of the wood.
We have created this list of 10 tips for wood finishing as an overview of the different types of finish for beginners and experienced DIYers. These tips with links to more detailed articles will provide you with some hints and insights, especially if you are new to wood (re)finishing or if you wish to try a different type of wood finish (source).
What Are Your Requirements for a Wood Finish?
#1: Color vs Colorless Wood Finish
The first step of choosing a wood finish is to decide whether you prefer a color or colorless type of finish. If you want your wooden piece to appear in a shiny color you should consider paint or lacquer as the finishes of choice.
Some prefer retaining the natural beauty of the wood though. A colorless finish, such as oil or polyurethane, can be the answer in this case. Most finishes do not only protect the surface but also enhance the color and grain of the wood.
#2: How much Sheen Do You Like?
Once you have decided whether you are using a colorant or a colorless finish, you need to determine how much sheen it shall have. Sheen, in a nutshell, describes the amount of light reflected by a treated surface. The level of sheen of most finishing products ranges from matte or satin to semi- and high-gloss. While oils, for instance, often come with a matte or satin sheen, lacquer tends to be rather glossy. Read more in our articles on sheen and the pros and cons of matte vs semi-gloss and satin vs gloss.
#3: Durability and Resilience
Different uses of wood require different degrees of durability and resilience. Exterior wood and floors are subject to heavy tear and wear. Finishes such as polyurethane, varnish, paint and lacquer are ideal to protect the surface, and some types are even water-resistant.
Artistic objects or decorative furniture usually do not need a high level of protection. Appearance and enhancement of the wood's natural look might be of higher priority. Oil and stain (despite not being a finish itself, technically) offer basic protection and an appealing hue.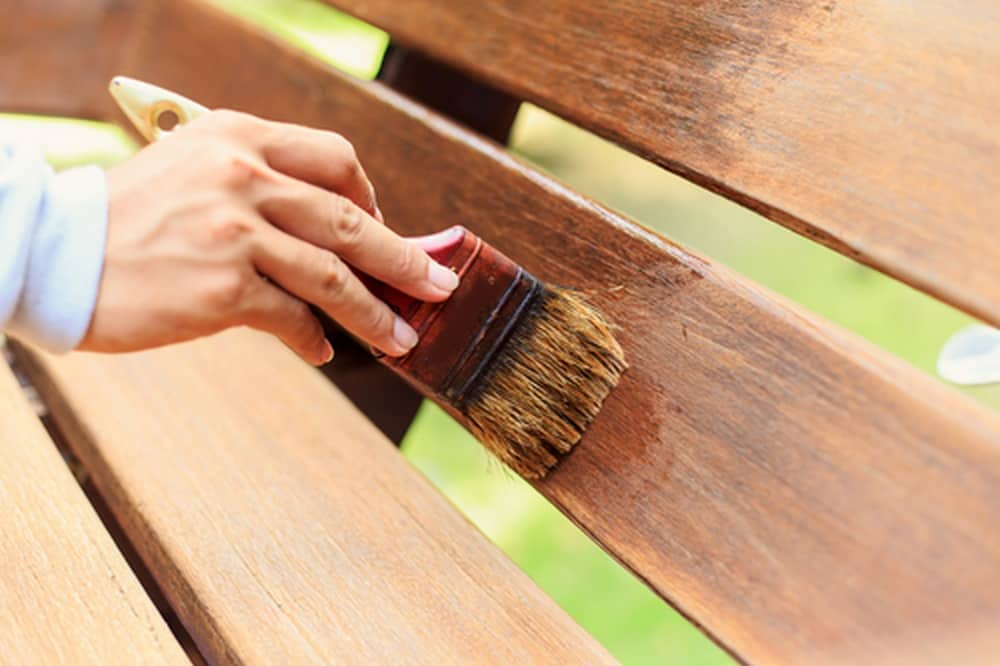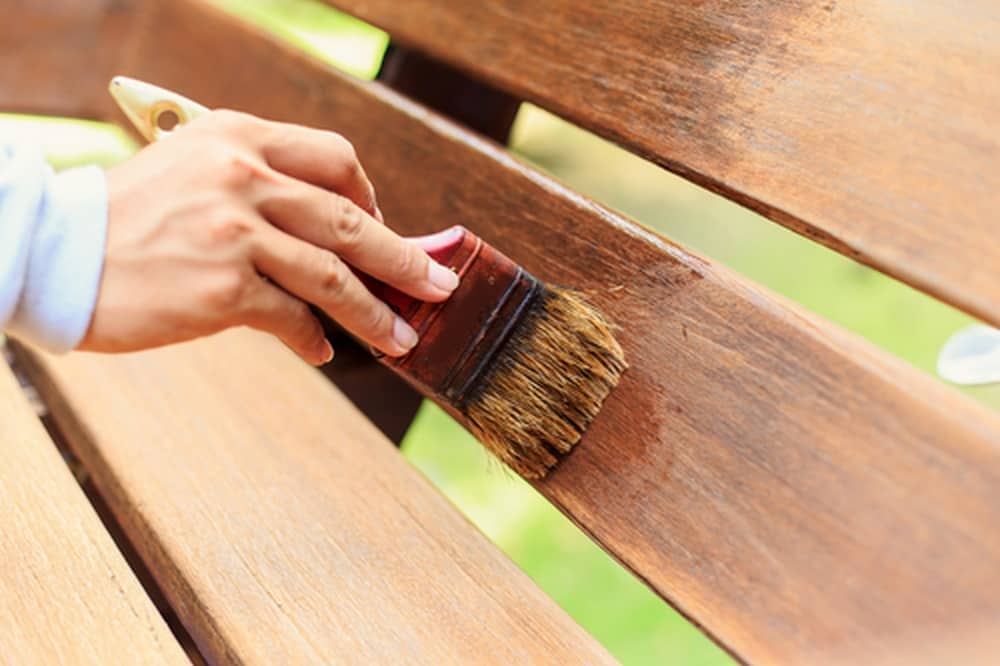 #4: Application and Drying Time
Different finishes have different ways of application. Some require several coats (such as oils) while others only need one coat (e.g. lacquer and paint). Some are applied with a cloth or brush which needs some skill but can be learned quickly. Lacquer and some types of polyurethane can be applied through spraying. While this is fast and convenient, it requires some training. For inexperienced sprayers, the additional time needed for the cleanup may even consume the time saved during the application.
When choosing your finish, make sure you are aware of the drying time. Some types are drying within a few hours while others need a couple of days. Make sure the requirements of the product meet your available time (in particular if you need to apply more than 1 coat). Read more about the drying time in the articles recommended below.
Which Type of Finish Should You Choose?
#5: Paint for Coloring Wood
#6: Color or Colorless Lacquer for Fast Results
If you are experienced in spraying finishes or keen to learn it, lacquer is a good alternative to paint or colorless wood finishes. Usually, one coat of lacquer is enough to cover a surface with color or a colorless protective coat. Some types of lacquer finishes can also be repaired if necessary.
#7: Varnish and Polyurethane for Maximum Resilience
Varnish, polyurethane and special types such as spar urethane offer a great level of protection. They are often used for hardwood floors as well as exterior wood such as decks, fences and doors. Spar urethane was originally designed for the treatment of boats, its water-resistance is therefore almost unbeatable. These finishes are basically colorless, yet some types add an amber hue to the wooden surface. Read more in this article where we have compared varnish, polyurethane, shellac and lacquer.

Example of a water-based Polyurethane.
#8: Oil and Stain Enhance the Natural Appearance
If you prefer keeping the natural look of wood and the surface in question does not require too much protection, oil is probably a good recommendation for you. Danish oil and Teak oil are popular finishes for furniture and cabinets. They are often mixtures of natural ingredients and synthetic additives (to enhance the durability and application) while Tung oil and Hemp oil are legit natural alternatives. Read our comprehensive guide to wood finishing with oil for all the details.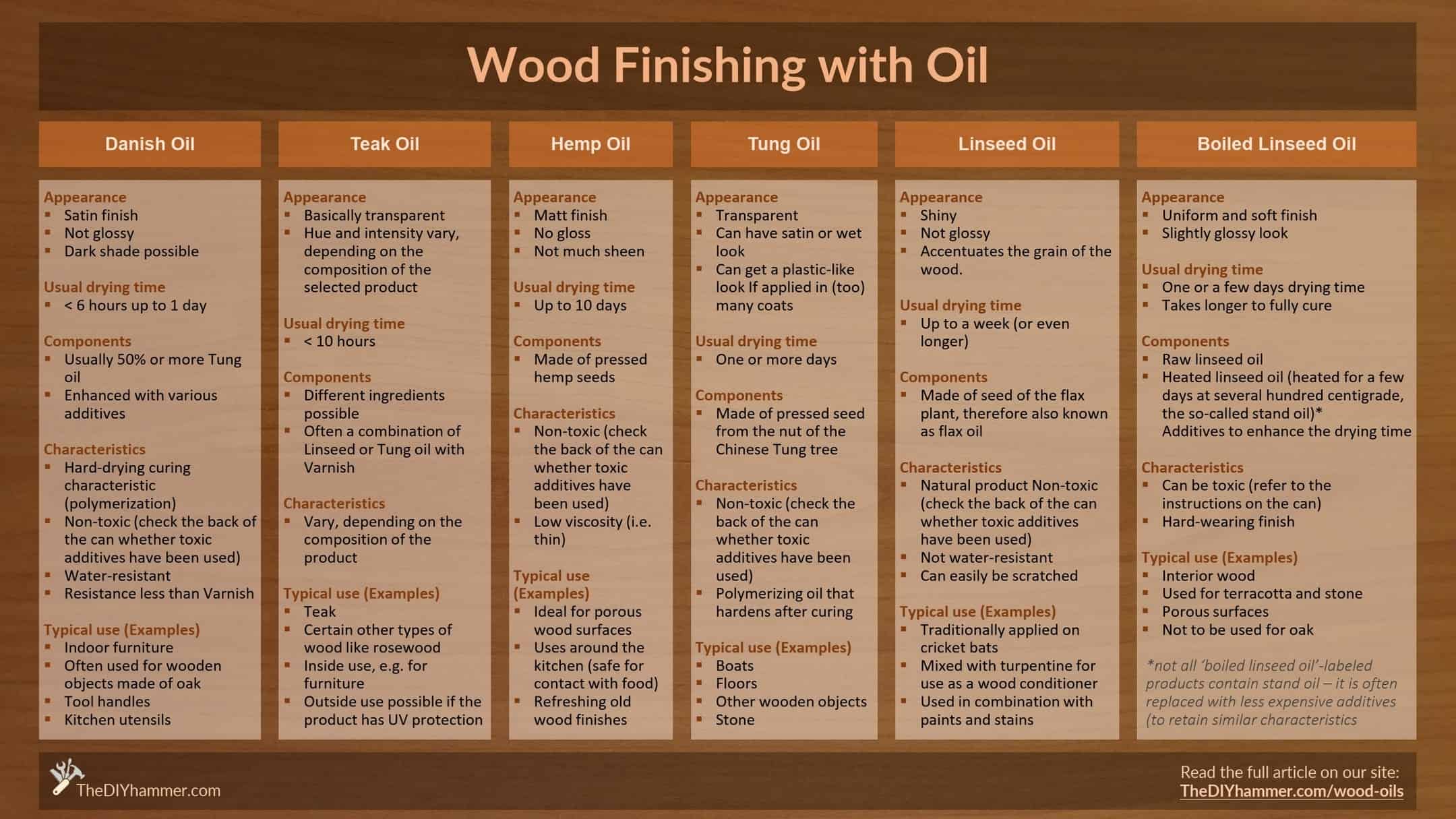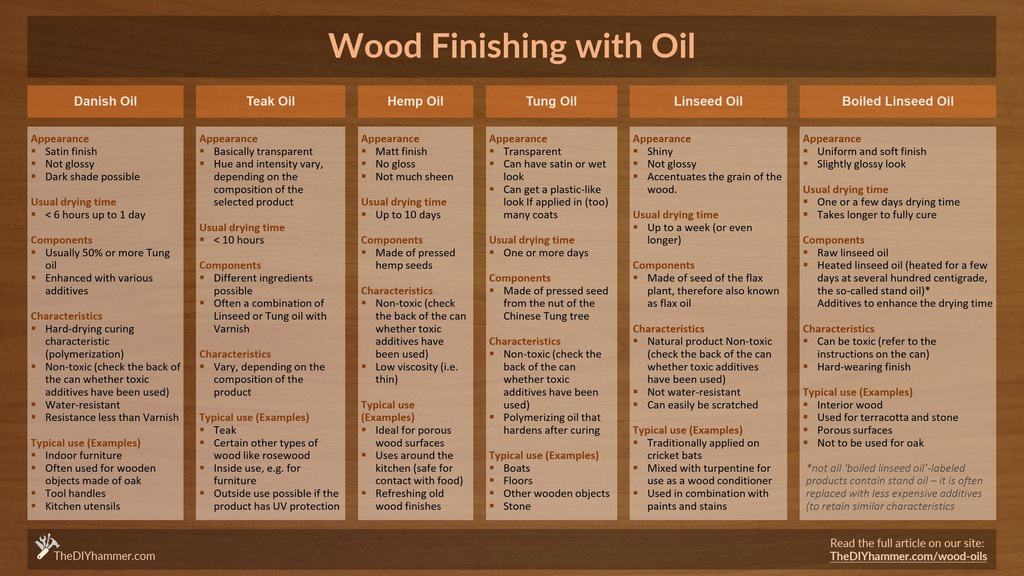 Although stain is a colorant rather than a finish, we mention it here as it does a great job enhancing the natural color of the wood. Read more about wood stain here but be aware that stain does not provide much of a protection. Therefore, it often needs to be used together with a protective finish.
How Do You Finish Wood?
#9: Sand the Surface
In almost all cases, the first step of the wood finishing process is sanding the surface.
Firstly, sanding ensures that the surface is smooth for aesthetic as well as for practical reasons. Uneven surfaces make it hard to apply a finish and may lead to imperfections and stains when a finish is applied.
Secondly, sanding removes old coats of finish which facilitates the application and the effectiveness of a new finish. For some finishes, sanding is not sufficient to remove old coats. In such cases, you should consider using a paint remover or other chemicals.
#10: Use the Right Equipment
We have covered the types of finishes in this article. Besides those, we will also look at the tools and equipment that are needed to perform the wood finishing process.
For the first step, sanding, you can use sandpaper, sanding blocks, manual or powered sanders. The electric models offer more convenience and come in different models and sizes. They can be a good choice if you work on a large surface or if you need to do it frequently. You will find an introduction to the different types of sanders in this article.
For the application of a wood finish, you also need to get the right type of applicator. If you intend to spray lacquer (or polyurethane), you can either use an off-the-shelf spray can or – the better yet pricier choice – get semi-professional spraying equipment. The other types of finishes can be applied using a brush, cloth or rag.

Example of spray equipment for lacquer.
Also, do not forget certain safety measures. Gloves are always a good choice if you work with liquid products. Goggles and a mask are highly recommended if you spray a finish or apply types that are somewhat unhealthy, such as oil-based polyurethane.
Follow the links to the detailed articles in our previous tips to learn more about the ideal way to apply each of these finishes.
Conclusion
Once you have chosen the right type of wood finish for your needs, read this step-by-step guide to wood (re)finishing, get your equipment, and you'll be all set to make a wooden surface look new again.
We are sorry that this post was not useful for you!
Let us improve this post!
Tell us how we can improve this post?